NELady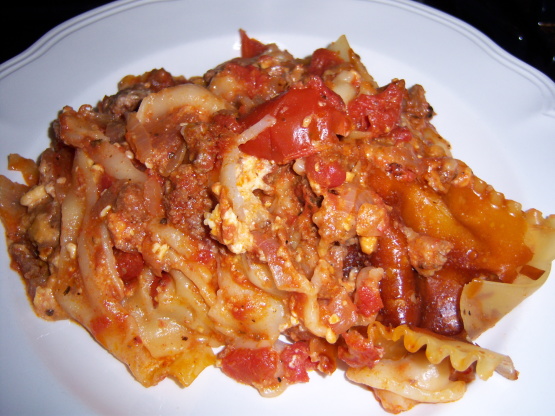 My family loved this -- so easy and so good and it is a WW recipe too - 8 points/serving. Recipe source: Weight Watchers.com

I have been looking for a recipe like this, a hearty home cooked recipe that tastes like the lasagna my mom would bake on a Sunday. This smelled just like hers! The spices were perfect, the noodles were baked just right and the cheeses melted perfectly! I did make some changes... I used ground turkey instead of beef, and Low Fat Italian blended cheeses... (I LOVE different cheeses!) I might play it up next time with some added spices, but overall very good! I also froze some of it since there are only 2 of us. So I am not sure how it freezes, but will be finding out here soon! I LOVE trying out all these WW recipes!!! On to the next! :)
In a large skillet over medium high heat brown beef, onion and garlic, stirring to break up beef (5-10 minutes) until meat is brown.
Stir in next 6 ingredients (tomatoes - red pepper flakes) and simmer another 5 minutes.
Meanwhile in a small bowl combine ricotta and 1 cup of the mozzarella.
Spoon 1/3 of the tomato/beef mixture into crock pot. Break 3 lasagna noodles in half and arrange on top of tomato/beef mixture and top with half of the ricota mixture. Repeat with second layer. Finish with the remaining 1/3 of the meat mixture.
Cover and cook on low for 4-6 hours.
In a small bowl combine remaining mozzarella and Parmesan cheese. Sprinkle over meat mixture and set aside for 10 minutes or until cheese melts and lasagna is firm (10 minutes or so).