Crock Pot Italian Sloppy Joes
Cook4_6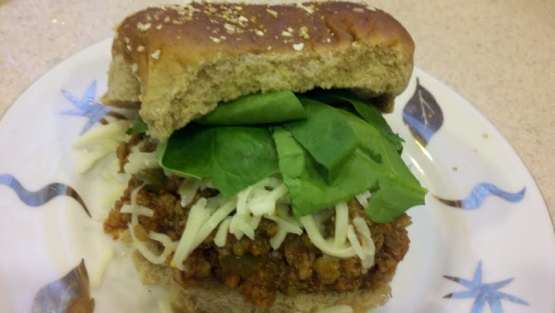 This is a great take on the Sloppy Joe Sandwich, trimmed of some calories and with the addition of some tasty veggies. Serve it on hamburger rolls topped with a slice of Provolone for a great and easy meal.

Delicious alternative to a plain old Sloppy Joe. I didn't make it home at lunch to start these and get them in a crock pot, so I followed the recipe with the exception of cooking them stove top on low for about an hour. I used shredded mozzarella in place of the provolone, and homemade marinara instead of crushed tomatoes because it is what I had on hand. I would definitely make these again ... it would be a great dish to serve at an informal gathering!
In a medium non-stick skillet, cook the sausage over medium-high heat, breaking up as it cooks into small bits until cooked through, about 5-6 minutes. Add onions and garlic, and cook another 2 minutes. Transfer to the slow cooker and add the bell peppers, crushed tomatoes, rosemary and fresh cracked pepper.
Cover and cook on low 4 hours. Makes 3 1/2 cups.
To serve, place heaping 1/2 cup of meat on a hamburger roll and if desired, top with cheese and baby spinach.