Crock Pot Italian Chicken
Sara 76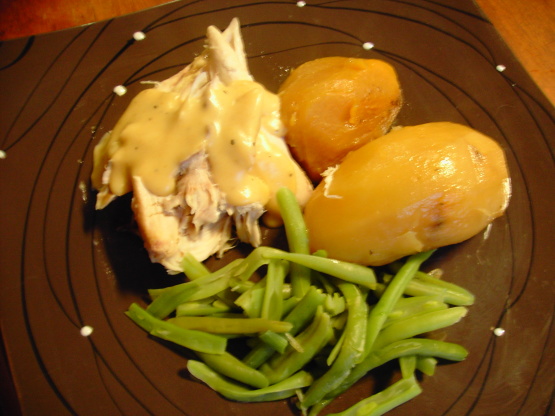 Quick and easy to prepare, and so tasty! I have it cooking right now, and the smell is making me wish it was dinner time already! It goes great with Super Tasty White Sauce (as shown in pic)!

I was very impressed with this very easy recipe! I used the veggies I had on hand (potatoes and carrots) and a much larger chicken (I think about 7 lbs), but stuck with one bottle of Italian dressing. Mine took a fair bit longer than expected; I think it ended up being about 10 hours on low, but I think that is because of the size of my chicken.

I don't know if it was the olive oil or the dressing, but the chicken turned out very moist and so tender that fell apart as I lifted it out of the slow cooker. I am not a huge fan of Italian dressing, so I was concerned that it would taste too much like Italian dressing and I wouldn't be able to use it in other dishes with their own seasonings. The flavor was not overly strong, at all, and was really just a nicely seasoned chicken.

We had it for two dinners (no sauce or gravy, just the chicken and vegetables), then shredded the rest into two cup portions and froze them in freezer bags. I have since used that chicken in fajitas and casseroles and it is very convenient, versatile and delicious.

I have another chicken in my freezer and will be using this recipe again!
2

tablespoons olive oil

4

medium potatoes, peeled

2

small swede, peeled and halved

1

(300 ml) bottle Italian salad dressing
Rub chicken all over with olive oil.
Place chicken in crockpot, and arrange the vegetables around it.
Pour Italian Dressing all over it, and cook on high for 4-6 hours.