Crock Pot Indonesian Style Country Ribs
Bergy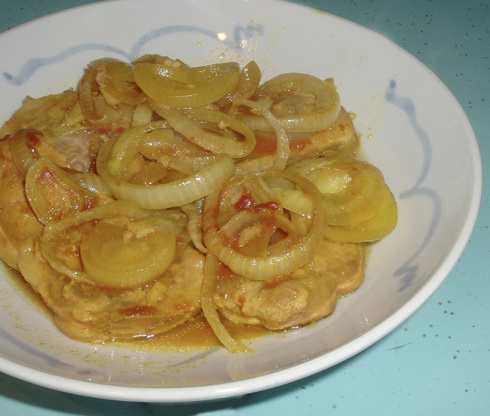 Easy to put together in the crock and go. Goes great with steamed jasmine rice and fresh pineapple and stir-fried veggies cooked with a little bit of the sauce from the ribs (I had some mushrooms and snow peas). This was inspired by KitchenManiac's Curry Devil Curry Devil, a dish that I really love and prepare whenever I have the time and ingredients.
It took me a while to find ketjap manis, but I'm glad I did. I think the sweetness made a big impact on the taste of this dish. The ease in preparation was a delightful surprise as well. Both hubby and I enjoyed it a LOT. In fact, we ate all but one small piece of the meat at one meal. I've put this in my favorites, as I will be making it again. I served it with basmati rice and stir fried celery and cashews with 1 minced Serrano chile. I skipped the Thai chiles. The combination was great. Note: I saved this recipe as a favorite and later tried putting all the ingredients into the freezer together. Last night I put the frozen bag into the fridge to thaw and into the crock pot this morning. It cooked it on low for about 6 hours, and it turned out GREAT - even better than when cooked fresh. This is certainly a winning recipe!
Place ribs in the bottom of the crock pot.
Separate onion into rings and place on top of pork.
In a small bowl, mix together ketjap manis, pineapple juice, lime juice, ketchup, brown sugar, ginger, turmeric, and cayenne pepper until blended.
Pour mixture over pork and onions.
Cover crock pot and cook on low for 6-8 hours or on high for 3-4 hours or until pork is tender and cooked through.
Serve pork with rice (if desired), garnished with slices of hot chiles.
Serving suggestion: for my dinner, I also took some sliced crimini mushrooms and snow peas (about 2 cups each), and stir-fried those with some hot chilies until they were partly cooked, then added a ladle of the sauce from the crock and allowed it to thicken onto the veggies until the veggies were crisp tender; I served the veggies also with chunks of fresh pineapple on the side.