Crock Pot Honey-Mustard BBQ Short Ribs or Pot Roast
Brian J.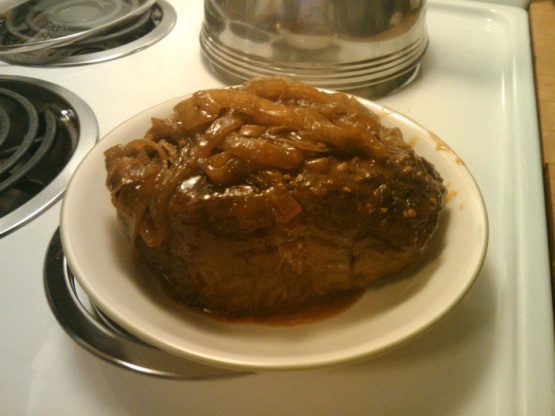 This is so easy to put together, and great served with cooked noodles. I have many crock pot recipes that I have collected over the years, and this is one of them, hope you enjoy! Please adjust amounts to taste. Double the sauce amount if using more than 3 pounds of beef. Add in a sliced onion also if desired. This will also work well with a small beef blade roast, you might want to brown the roast firstly before adding to the crock pot and double the sauce amount, cook until the roast is fork-tender.

I decided to make this too late for a crock pot, so I browned my short ribs (mine were boneless) and double the sauce and baked for 3 hours at 325 degrees. I added one beer to mine because I was afraid the sauce would burn because of the thickness of the sauce and the higher temp I was using. WOW! These were delicious! It was a testiment to my will power not to break into them before dinner. OK, I snuck a little piece :)
Season ribs with salt and pepper, if desired.
Place in slow cooker.
In a bowl, combine mustard, minced garlic, honey, BBQ sauce, and more salt and pepper to taste.
At this point, you may add the water with the cornstarch in with the sauce, or add it the last 30 minutes of cooking; just mix the 2 tbsp cornstarch in 2 tbsp water; add to sauce, stir.
(Remember to double the water and cornstarch if you have doubled the sauce recipe).
Pour the sauce over ribs.
Cover and cook on LOW, for 6-7 hours, or until tender.
The last 30 minutes of cooking, mix the cornstarch with the water; add to the sauce in the crock pot, stir and cook until thickened.
Note: the sauce recipe may be doubled if desired, for more sauce.