Crock Pot Holiday Dressing
Bone Man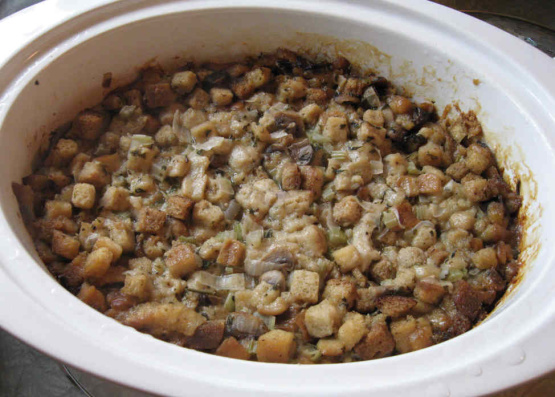 This great-tasting recipe will solve your oven space problem if you don't usually stuff your holiday turkey. It's a newspaper clipping recipe that I tweaked just a little and I wouldn't plan to make my future dressing any other way, even if I had three ovens!

As written, I would give this four stars. For me and my family, the spices in the amounts given would have been overwhelming. I simply added some salt (not as much stated) & pepper, 1.5 tablespoons parsley, and 1.5 teaspoons poultry seasoning to this dish and this was plenty. I did not add any of the other spices mentioned. (Of course, how much spice to use in any recipe is a personal choice, so you might like more or less than this.) I also felt the amount of butter was very high, so I cut that in half and only used 1/2 cup butter (1 stick) and it was plenty. I also did not add my eggs to the 4.5 cups of broth mentioned. You will almost certainly not need that much broth in this dish. So I added the eggs directly to the bread then began adding my broth until I had the consistency I wanted. That way no eggs or broth is wasted. If you have leftover broth (and you will), you can now use it to make your gravy instead of water and it won't have egg in it. With my changes, I feel this is a fantastic five star recipe for my family.
Melt the butter in a skillet over medium heat and saute the onions, celery, mushrooms and the parsley until tender but not browned.
In a large mixing bowl, spoon the sauteed vegetables over the bread cubes and then add all the spices and herbs into the mix. Stir.
Mix the beaten eggs with the chicken stock and add this to the mix a little at a time as you stir carefully. You may not need every bit of the stock-egg blend so be careful to not turn your dressing into soup. You should still be able to discern the bread cubes but they should be fairly wet.
Transfer the mix into your crock pot (a large one is best) and cover.
Cook on High for an hour and then reduce to the Low setting and allow it to cook for four to eight more hours until it reaches the consistency that you like.
If you don't have the Paul Prudhomme seasoning you can use seasoned salt or, better yet, poultry seasoning.