Crock Pot Ham Bone and Beans
BecR2400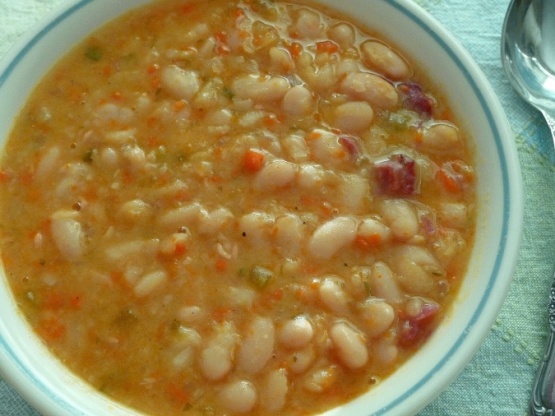 Many variations to Ham Bone (or Hocks) and beans but this is pretty much how I remember it from my childhood. I find by not soaking the beans they have better texture and flavor.I use Great Northern Beans as my favorite choice of bean for this recipe. I have used 15 bean mix with good results just omit the ham flavor packet.

Outstanding! I didn't monkey around with the ingredients, and used 8 cups of the chicken broth and a meaty ham bone. It was absolutely delicious!
Add onion and celery to crock pot.
Place ham bone or hocks on top of onion and celery.
Pour rinsed beans around ham and sprinkle with pepper.
Add bay leaves and garlic.
Add chicken stock and stir to combine all ingredients cover and cook on low for 8 hours.
When ham is tender (6-7 hours) Remove meat from bones (discarding fat and bones) and return meat to the pot. Stir to combine and break up ham pieces.
To thicken smash some of the beans on the side of crock pot.
When done skim any fat off and discard bay leaves.