Crock Pot Golden Chicken Curry
IOjaw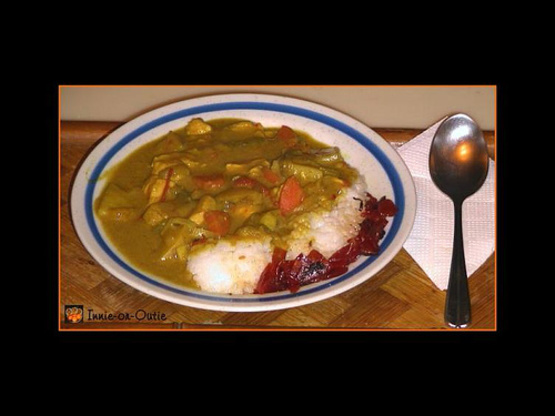 My version of an island favorite.

This is the curry taste that I have been searching for. I doubled the recipe for the spices/flour/stock and went crazy with just vegetables, no meat. The hardest part was making the sort of roux (spice/onion/garlic mix with flour) then adding the stock slowly to thin out with no lumps. Turned out awesome and well worth the time. When I was done pouring the sauce over the vegetables in the crock pot, I took some sliced bread and CLEANED out the pot. This curry gravy was so good I ate about a half loaf of bread with the drippings. So Good! Will make this again and live off it! I am hoping my 12-16 servings lasts me the week. ;)
Place potatoes, carrot, chicken, and bell pepper in bottom of crock pot.
In a large saucepan on medium heat, sauté onion in olive oil and margarine until translucent.
Then stir in garlic paste, curry powder, turmeric, white pepper, ginger, cinnamon, and salt.
Next, gradually add flour mixing thoroughly into a pasty consistency.
Finally, slowly pour in chicken broth, thoroughly diluting the flour mixture. Make sure there are no lumps.
Last, pour broth mixture over the ingredients in the crockpot.
Cover and cook on high for 6 – 8 hours, stirring occasionally.
Serve over hot rice accompanied by sour and/or sweet pickled condiments.