Jane W.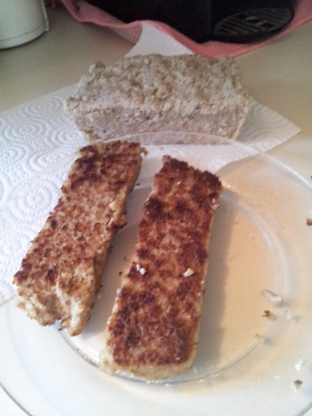 This recipe was found on the web, posted by Stephan Block. It was a requested recipe.

I think you found this recipe for me months ago. My dad grew up on this stuff and his mom taught my mom to make it and I grew up on it. Every time I visit my dad in California he asks me to make it, my excuse would be that I lost the recipe. He was looking thru some family albums and found the family recipe stuck in the pages. The original recipe is time consuming and I wasn't looking forward to making it. I armed myself with this recipe and flew down to California. Figured I'd make it; it be ok and he'd be happy that I made the attempt. I made the first batch, I did not add cornmeal as the original recipe does not call for it and I did not want to change the texture. I just cooked it longer til it thickened enough. It does need to be stirred as the oats tend to stick to the bottom of the pot. I fried it in nonstick skillet. This was WONDERFUL! Dad loved it so much that I made 3 more batches to put in his freezer. Thank you so much for hunting this down, you brought an old family dish back to us.
Place water, oats, salt and pepper into the crock pot and mix well.
Cover and cook on high for 1 hour, stirring 2 or 3 times.
Add meats and break up well.
Add onion, sage, thyme and bay.
cook for 4 hours on low, stirring now and again.
Uncover and add cornmeal-stir well.
Cook uncovered for 30 minutes.
Turn out into 3 loaf pans, cool and chill in fridge.
When set turn out and freeze what you want.
Slice and fry in a little butter or oil until brown and crusty, but dont let them touch in the pan or they will run.