Crock Pot Garlic Pork With Sweet Potatoes
Derf2440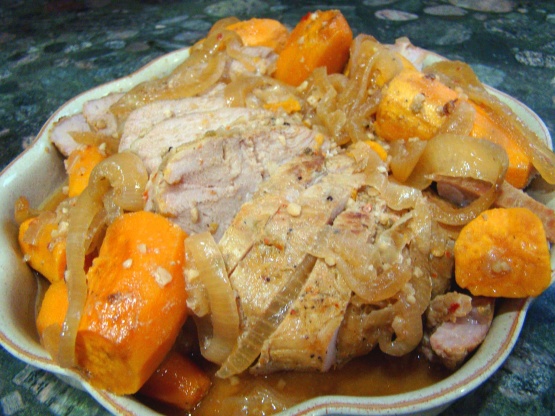 I adapted this recipe from one I found in one of those booklets you buy at the check-out in the grocery store. Love the garlic hit!

Fantastic flavours!! We loved it and I will put the recipe in my hard copy. The only thing that didn't work was the timing. I kept a very close eye on it cus I didn't want the pork fall apart stringy or the yams mushy. Mine only took 4.5 hours on low!! Cooked perfectly with all holding their shape and lovely slices of pork. Had I followed the instructions as written we would have had soup for supper. I had very small baby yams so I just peeled and cut them in half instead of cubing them. I didn't have any poultry seasoning in so I replaced it with paprika and I did add a half teaspoonful of red pepper flakes. Thanks for a keeper.
If there is a lot of visible fat on the pork roast, trim it away.
In a large, heavy skillet, heat oil over medium-high heat.
Sprinkle salt and pepper on pork roast, then brown roast in hot oil on all sides, for about 10 minutes total time.
Remove browned roast to a plate and temporarily set aside.
In fat in skillet (add a little extra oil if needed), saute sliced onion and minced garlic, seasoned with the poultry seasoning, just until onion starts to soften; place in bottom of slow cooker.
Turn heat to high and add white wine to skillet; scrape up all the bits sticking to skillet (in other words, deglaze the pan), then pour this mixture over the onions in the crock pot.
Cover onions with cubed raw sweet potato.
Place browned pork roast on top of sweet potato cubes, then pour chicken stock over roast.
Cover and cook on Low power for for 7 to 8 hours, or until sweet potatoes are tender and pork is cooked.