Crock pot GARLIC GARLIC GARLIC Chicken!
Pamela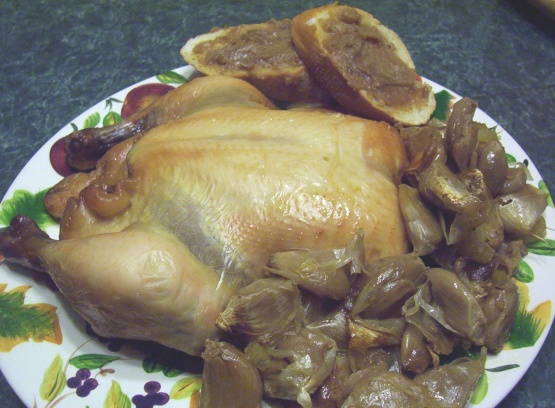 This is to die for! Don't be shocked by the amount of garlic, it does work. I just wouldn't recommend any up-close-personal-contact for a couple days.... ;)

Top Review by cyaos
This was good. We tend to like stronger flavours in our house. I used boneless skinless chicken breasts and cooked it on high for four hours. It would probably be better with boneless skinless thighs if I make it again. We don't eat whole chicken and especially chicken with skin on. The serving suggestion for French bread was spot on and actually our favourite part of the meal. The garlic spread was flavourful. I will try this again with thighs. Thanks for posting.
Place 1 sprig thyme, rosemary, sage and parsley in chicken cavity.
Place celery in crock pot.
Put chicken on top of celery.
Pour chicken stock around the chicken.
Add garlic around chicken.
Chop remaining herbs. Sprinkle herbs, salt and pepper over chicken.
Cover cook on Low 8- 10 hours or on High 4- 6 hours.
To serve, place chicken, garlic and celery on serving platter.
Squeeze roasted garlic out of skins onto toasted French bread slices and spread with knife.
ENJOY!