Crock Pot French Onion Soup
PaulaG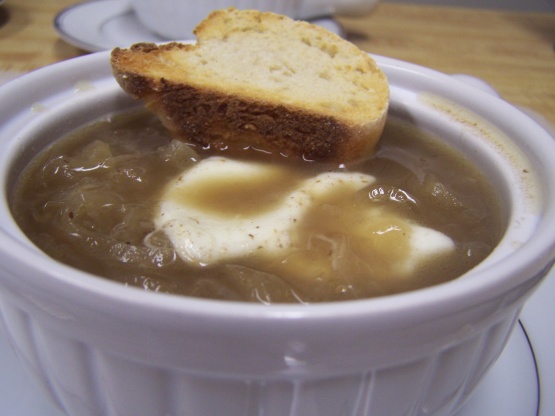 For the Zaar World Tour courtesy of my friend Susan who is a wonderful cook. Try only if you LOVE onions! Wonderful as a side dish.

it's just not french onion soup without carmelization of the onions. this recipe is missing that special taste... tried adding pepper, herbs, and wine. still meh. in desperation added some dried toasted onions. little better. will be going back to the old school method of sweating and carmelizing the onions. feel like i just wasted a bunch of great organic onions trying this out : (
Add first four ingredients to your crockpot.
Cover and cook on High for 4-6 hours.
Here comes the difference between most soups like this. Place a slice of cheese on the bottom of your bowl.
Add the soup followed by your croutons.
As you stir your soup all that good cheese gets swirled around.