Crock Pot Fat Free Refried Beans for the Freezer - OAMC
Pamela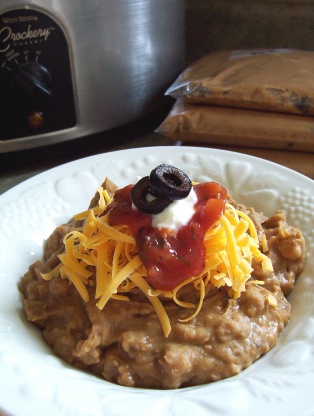 It's nice to have some refried beans you can pull out of the freezer for a side with your Mexican meals without opening a can with all the extra fat. One side serving is 1/2 cup, which also makes about 4 tacos or burritos These are a great side dish, may also be used for burritos, and can be served as a main dish with plenty of shredded cheddar and salsa on top. Take the time and make these ahead. You won't be sorry!

Great tasting bean recipe. Followed recipe to the letter and ended up with way too much liquid, maybe a error on my part or my beans, but after blending with my imersion blender I had refried bean soup! Added a can of kidney beans, mashed, and cooked on high uncovered in slow cooker for another 3 hours and they were perfect. Flavor was great and have 4 small containers in the freezer of good, fat free beans after dinner last night. Will make again, next time I will remove the liquid before blending and add as needed to avoid bean soup. Thanks for posting.
Drain soaked beans and place in a crock pot along with remaining ingredients except salt. Make sure that the beans are covered with liquid by about 1".
Stir well, cover and cook on low all day, about 8-10 hours, until tender. Keep an eye on them and make sure they don't get dry.
Add salt.
Use a potato masher or heat safe (canning) jar bottom to mash well and stir with a wooden spoon.
Continue to mash and stir until desired consistency.
To freeze, put in a freezer Ziploc and flatten into a layer to freeze, or no more than 2" deep in freezer containers.