Bergy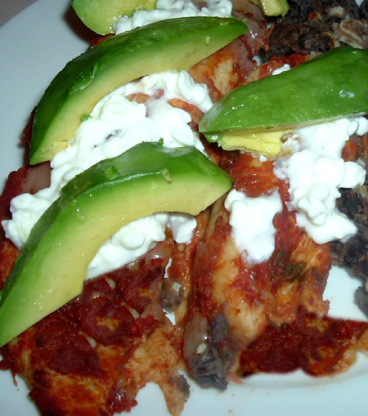 Do not limit your self to using hamburger this recipe is excellent for using left over roast/chicken etc. Make it as hot as you want or as mild. This recipe went over very well with my recent company and done in the crock pot kept the heat out of the kitchen. I served them with refried beans, & fresh salsa The end result of the recipe produces soft enchiladas where the flavors have blended and they practically melt in your mouth
vegetable oil cooking spray

1

lb lean hamburger

1

onion, chopped finely

1

sweet green pepper, chopped

1

sweet red pepper, chopped

2

jalapeno peppers, finely chopped (optional)

3

garlic cloves, minced

2

cups taco sauce (or your favorite salsa mild or hot)

1

cup salsa (fresh or canned hot oR mild)

1

cup mushroom, chopped

6

flour tortillas (Basil are good, or sundried or plain)
1 1⁄2 cups monterey jack cheese or 1 1⁄2 cups cheddar cheese, grated
1⁄2 cup sour cream
green onion, chopped fro garnish (optional)

2

avocados, sliced, for garnish (optional)
salt & pepper
Spray a large skillet lightly with veggie oil.
Brown the hamburger, make sure there are no lumps (if using cooked chicken or other cooked meats do the next step before this one then add the cooked meat to the onions etc).
Add onions, garlic, mushrooms, saute until the onions are translucent.
Add peppers cook 3 minutes.
Mix the taco& salsa sauces.
Remove from heat and add 3/4 cup taco/salsa sauce.
Lay out the tortillas and spoon approx 3/4 cup of the meat mixture into the middle of each tortilla.
Sprinkle with a tbsp of cheese.
Roll the tortillas and fasten with a tooth pick.
Put 1 cup of the taco sauce on the bottom of your crock pot.
Place the rolled tortillas side by side Pour in 3/4 cup of taco sauce On the bottom layer (this will help the tortillas from sticking).
Place second layer of tortillas and top with the remaining sauce.
Cook on low heat for 3-4 hours.
Be very careful removing the top layer so you do not tear them.
Place on a warm platter, top each enchilada with a streak of sour cream, sprinkle remaining cheese over top Garnish with avacados and green onions.
If you wish you can place under broiler for a minute to brown the cheesE (it melts on it's own).