Crock Pot Enchilada Stack
Parsley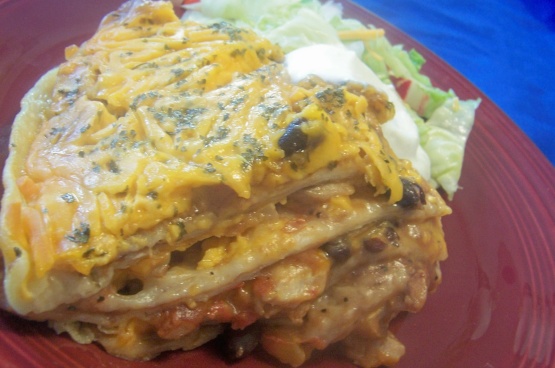 Enchiladas a different way!

I loved this, and will be making it again. If the stack formation seems odd to you, it really does work out if you follow the recipe. I recommend some sour cream after you divide it up, too.
Cut stew meat into very small pieces and brown meat and onion in skillet.
Add all remaining ingredients and simmer for 10-15 minutes. Set aside.
In crock pot, place two pieces of foil folded to create a "dish". One six inch wide strip one way and another the other direction works well for me.
Ladle a small amount of filling onto foil, and place a tortilla on the top and sprinkle with 1/2 cup cheese. Repeat layers ending with last of the filling. There should be about 6 layers.
Cover and cook on low for 6-8 hours or til meat is tender.
Pull bottom layer of foil out of cooker and place on a serving platter, spoon any remaining contents over top.
Cut into wedges to serve. Add tomatoes, lettuce and sour cream if desired.