LianneW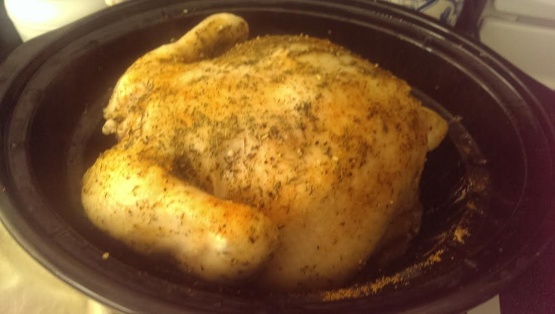 Tastes just like the chicken you buy at the deli. This recipe is core.

This recipe is incredible. The chicken was so moist and juicy. Besides the foil balls, I lined the pot with foil too. Hardly no clean up. My husband requested it again this week!!!
Clean chicken inside and out.
Spray with olive oil.
Sprinkle with seasoned salt.
Spray inside of crock pot with PAM.
Note: Don't put any water in the crock. Roll 3 or 4 wads of foil and put them in the bottom of the crock. The chicken is going to sit on these. Put chicken in the crock on top of aluminum balls. The chicken's breast will be on the foil. Cook on high (won't come out the same on low) 4-6 hours. You have to use the foil to get the deli taste. This chicken tastes very close to the one you would buy precooked at the deli.