twissis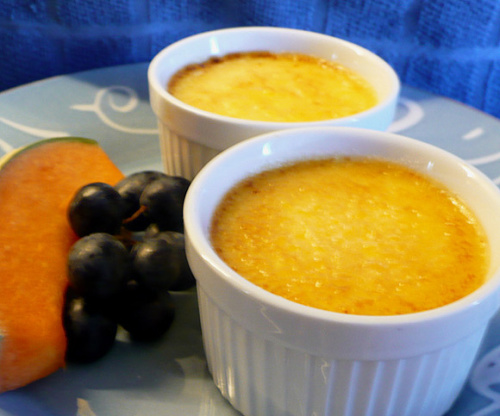 It sounds strange, but the constant low heat is a terrific way to cook this dish. It's a nice and low stress way to cook this classic French food. Enjoy!

WOW WOW WOW. How easy was this! I agree, my ears perked up at crock-pot and Creme Brulee. I LOVE Creme Brulee. It was a cinch to put together and pop in the crock-pot. My ramekins are oval and a tad larger than normal, so I could only cook 3, but that wasn't a problem, I just left them in about another 20 minutes. I just can't get over how easy it was and foolproof. I'll do pictures later, 2 are in the fridge for dessert tonight, one my son and I had to taste now. Will definitely make again, and again, and again. Thanks SO MUCH Nif!! Made for ZWT8 trip to France.
5

large egg yolks

6

tablespoons sugar

2

cups heavy cream (whipping) or 2 cups 18% coffee creamer
1⁄2 teaspoon real vanilla, good-quality (scrape the seeds out of the pod, you can also use vanilla bean paste)
sugar, for sprinkling on top
In a bowl, whisk together the egg yolks and sugar. Whisk in the cream and vanilla.
Divide among 4-6 small ramekins, or 1 large one, and put it/them in your CrockPot. Pour hot water around them so that it comes about halfway up the sides of the ramekins. Cover and cook on high for 2 hours, or until set but still slightly jiggly in the middle. Take them out and let cool. Refrigerate for a few hours or overnight, until nice and cold.
Sprinkle an even layer of sugar over each dish and caramelize with a torch or transfer to a cookie sheet and place under the broiler in the oven for about 2 minutes, just until the sugar is caramelized and golden. Turn the sheet around if you need to to help them caremelize evenly. Refrigerate again, or just let them sit on the countertop while you eat dinner or make coffee, just until the sugar is set and crackly.