Crock Pot Cream of Mushroom Soup
Parsley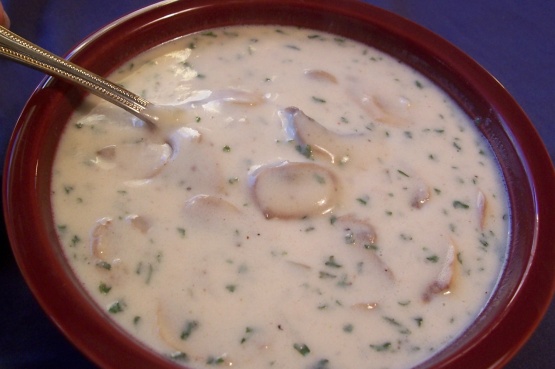 Very tasty soup. Many compliments on this soup. You may use top of stove for this soup, but it might be a little thick so adjust liquid. Energy Wise Cooking.

LOVE this super simple soup recipe! Read some of the other reviews, decided to double the recipe. I added 3 gloves of garlic as one reviewer suggested, and the six cups of mushrooms both button and baby bellas. I also used one cup of marsala wine in place of 1 cup water. I also experienced the break down of the sauce, but continued to stir occasionally, and heat on low 6-7 hours, and everything came together very nicely. This soup was delicious the first day (I had to try it!), but it was phenomenal the second day! A definate keeper and thanks for sharing!
Melt butter or margarine in large skillet over medium heat; add mushrooms and onion and saute until tender, about 5 to 7 minutes.
Sprinkle flour, salt, pepper and nutmeg over vegetables; stir to blend well.
Place in 5 quart slow cooker.
Using wire whisk, beat in water, cream or half and half, sour cream and chicken broth.
Cook covered, on LOW for 4 hours.
Turn setting to high; cook 1 hour longer, stirring occasionally.
Stir in parsley and Serve.