Crock Pot Cream Cheese Ranch Chicken
Ashley Cuoco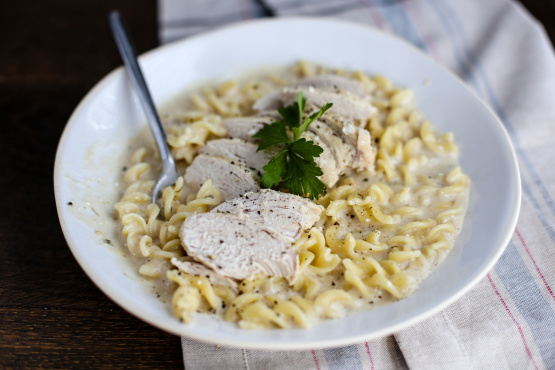 This is a recipe that was derived from Miss Annie's Crock Pot Cream Cheese Chicken that I attempted to make but found that I didn't have exactly the right ingredients...Since my kids love ranch dressing, this version really "hit home" with them...(They were literally "licking their plates" after they were done!) I thank you so much, Miss Annie, for your inspiration for this "alternative ranch-flavored" recipe! :)

WOW...this is REALLY good! So i didn't have chicken that was thawed and i actually made it with FROZEN chicken and it STILL turned out beautifully. I put 4 frozen/skinless breasts into the crock pot, drizzled 2 tbsp of melted butter on the breasts then sprinkled the ranch dip on the chicken. i cooked it on high for 4 hours, then saute'd a little onion and garlic...added one block of cream cheese and one can of cream of chicken soup...since the breasts were frozen, they made their own "broth" in the bottom of the crock pot...i added this to the cream cheese mixture as well. when it was all thoroughly mixed and heated thru, i added that to the crock pot and cooked it on low for another hour. The chicken was AMAZING, absolutely fell apart and the sauce was BEYOND yummy!! Served it over some brown rice and we had a great comfort food dinner. THANK YOU!!
Wash and dry chicken breasts and place them evenly in crock pot. Sprinkle with paprika.
Sprinkle pkg. of Hidden Valley Ranch salad dressing mix over chicken.
Drizzle chicken breasts with 1 tablespoons melted butter.
Cover and cook on Low for 4 hours.
Melt remaining 1 tablespoon butter in a medium saucepan along with minced garlic and saute slightly.
Add cream of chicken soup, the 8 oz. of cream cheese cubes, 1/2 cup chicken broth, dried Oregano and dried Parsley flakes. Stir on medium heat until smooth.
Add mixture to crock pot, cover again and continue to cook on low for 1 1/2 hours to 2 hours.
Serve over buttered egg noddles.