Crock Pot Corned Beef With Sauerkraut and Plums
Bergy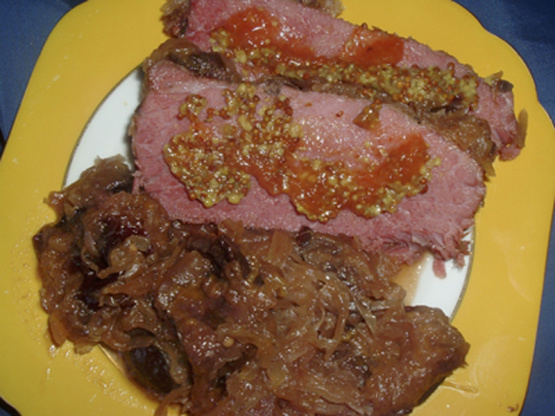 I was craving some sauerkraut and had this lovely piece of corned beef so I searched and searched and couldn't find a recipe so made this one up. A tin of plums will do and the hot sauce is optional but it does give it a bit of kick. I stated Sweet Russian Mustard but the Sweet German will be fine too. I enjoyed it and hope you will too.
Rinse the meat under cold water and dry on paper towels.
Mix together the sauerkraut, plums, mustard, Ketjap Manis and hotsauce.
Place half the kraut mixture in the bottom of the crock pot, then put in the corned beef and top with remaining kraut mixture.
Turn crock Pot to low and cook for 7 hours,.
Slice and serve with grainy mustard and hot sauce on the side.