Crock Pot Corned Beef & Cabbage
Pam-I-Am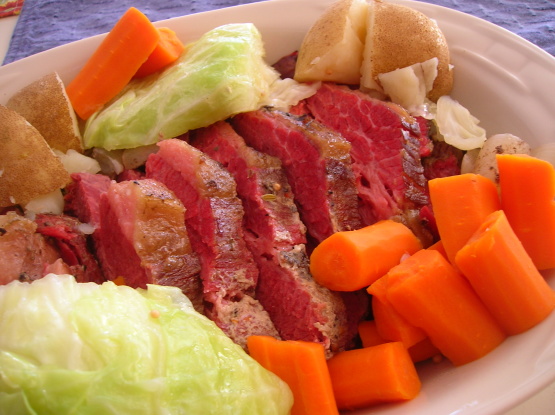 Leftover corned beef makes great sandwiches--Rueben's are good.

Wonderful flavor, turned out nice and tender. I cooked mine on low for 6 hours. I then removed the liquid into a pot on the stove, added the carrots and potatoes and boiled for 30 minutes and then the cabbage for the last 10. Everyone enjoyed our St. Pat's day feast in August.
In a 6 quart crock pot, combine water, vinegar, sugar, pepper and onions.
Place corned beef in mixture.
Cook, covered on HIGH for about 4-4 1/2 hours.
Remove lid and scatter around the carrots and cabbage wedges.
Cover again and continue cooking on HIGH 3 to 4 hrs longer or until beef is tender.
Add drained potatoes about 20-25 minutes before serving (just to heat through).
Serve beef, sliced with cabbage and veggies.
Add a little cooking juices on top of the beef slices to keep it moist.
Serve with Dijon mustard or horseradish and some crusty bread.
Serves about 6-7 people.