Crock Pot Corned Beef and Cabbage
SueVM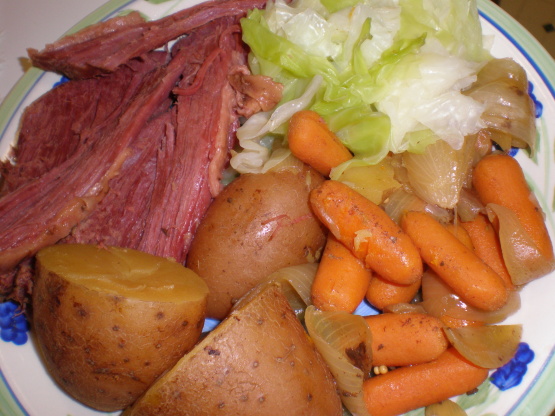 This is my version of Corned Beef and Cabbage for the Crock pot and it always turns out great. I like my method of cooking the cabbage outside of the crock pot at the end because it keeps the Cabbage from getting soggy and remains nice and crisp.
3 -4

lbs corned beef briskets

2

garlic cloves, minced

1

head cabbage

3

small red potatoes, unpeeled (about a dozen for 4 servings)

2

cups baby carrots

3

medium size onions

1

head cabbage
You will need a large crock pot for this. Put the potatoes in the bottom of the crock pot, pierced once with a fork.
Put the corned beef on top of the potatoes along with the juices from the bag.
Run water in the bag and measure one cup and add to the pot.
Quarter 3 medium sized onions and put on top of the meat and add carrots. Put lid on pot and cook on low 8-10 hours .
Cut cabbage into about 6 wedges.
Pour broth from crock pot over cabbage and steam until tender in a large frying pan 20 to 3o minutes.