flower7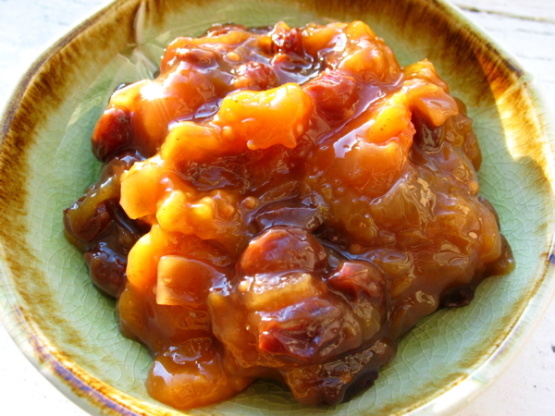 the fragrant aroma of this as it is cooking will fill up your whole house.

This is lovely. Really wonderful chutney. My kids and I had to go out of town unexpectedly and, since there was only one at home instead of the usual four, some food didn't get eaten. So I got home to find a bunch of peaches where none of them were perfect anymore. Since the kids have an issue with biting into one where there is a place, I needed something to do with them. I peeled them and sliced them and this worked well. I used a mix of golden and regular raisins and tiny pieces of crystalized ginger (both of those ingredients at slightly greater quantities than called for because I wanted to use them up). I also used splenda brown sugar (at half strength as called for) and white wheat flour. 5 hours later this was runny but tasty. Letting it sit for 10 minutes definitely set it up. I think this would be a great fall treat with frozen peaches and while we really enjoyed it on our skinless/boneless chicken breasts it would be especially good on a pork roast we think.
spray a skillet with cooking spray and saute onions until softened.
add onion and next 8 ingredients to a 3 quart crock pot.
combine flour and vinegar with a whisk, stirring well.
add to peach mixture.
cover and cook on low for 5 hours.
serve.