Parsley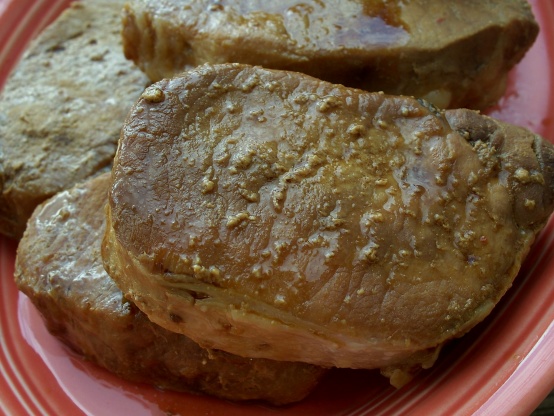 These sweet and tangy pork chops smell great as they cook all day and are a wonderful meal to come home to. Other cuts of pork would work in this recipe as well. Try some economical pork steak or a roast. I have even done this with strips and cubes and served over white rice. If you are salt sensitive you can use low sodium soy sauce. I use chenin blanc for the wine or a good chardonnay. Reisling might be a great sweeter wine to try here! A salad or veggie rounds out this meal really well.
Yesterday I needed something to throw together really quickly because I had to go get some work done on the car and I knew I wouldn't be home until after dinnertime. I found this recipe and knew I had some chops in the freezer. I dumped six bone-in chops and a double recipe of the sauce in the crockpot on low and left, returning six hours later to something wonderful! These were literally falling apart so we shredded them up and wrapped in some tortillas with cilantro, cucumber, red pepper, and green onion topped with the thickened sauce. Next time, I'll definitely use low-sodium soy sauce because it was a bit too salty for us, but they were great and SO no-fuss!
Spray crock pot with cooking spray and place all ingredients inside.
REVISED: Some reviews stated that the meat was dry and cooked too long so I am revising the cooking time to low for 6 hours or until chops are tender. My crock is old and probably cooks slower- sorry!
Remove chops and thicken liquid in pot with a slurry of 1 TABLEspoon cornstarch mixed with 1 TABLEspoon water.
Return chops to pot and cook until liquid has thickened.