Crock Pot Chili Chili and Beans
Peggy V.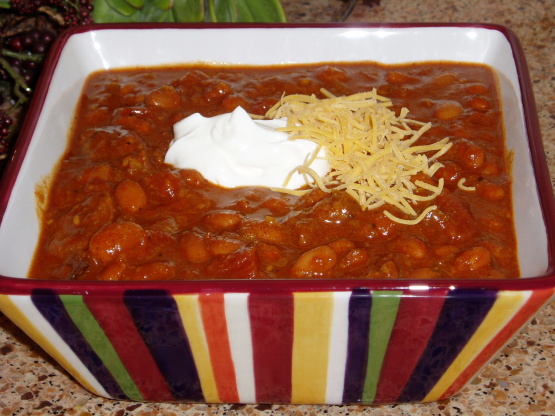 The chili was very tasty but extremely spicy. I just added half the amount of chipoltle peppers and that was plenty hot for me.
Put first 13 ingredients in crock pot with 1 tablespoon of the sugar, mix well, add pinto beans.
Turn crock pot on low.
Heat some olive oil in a large skillet sauté garlic, onions and green pepper for 4-5 minutes.
Add to crock pot.
Dredge the beef in the flour and brown in skillet.
(add more oil, if necessary).
Add to crock pot stir well.
Cook 8-10 hours.
Taste check; for acidity if necessary add more sugar, salt.