Crock Pot Chicken With Black Beans in Cream Sauce
Parsley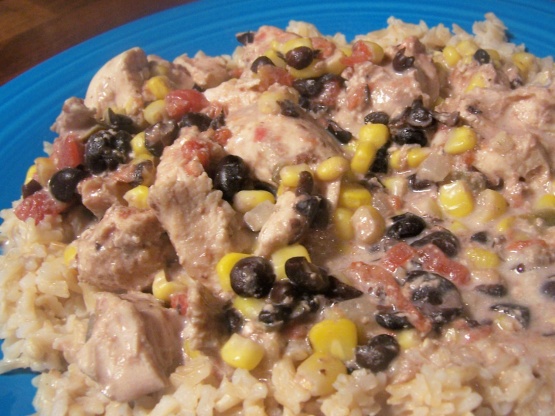 Quick to prepare chicken dish for the crock pot.

This was so good. It was better than I thought it would be! I cut the recipe in half, but now am wishing I hadn't, so I could have leftovers. My 5 year old daughter LOVED this and had 3 servings!!! My one year old loved it too. I used frozen corn and frozen chicken breasts. I served over brown rice and we put chopped avocados on top. So yummy!
Add all ingredients to crock pot, except Neufchatel cheese.
Cook on low for 8 hours or on high for 4 hours.
Stir in cheese cut into cubes, turn off heat. Let sit for 20-30 minutes.
Stir to blend in cheese.
Serve over rice, chips or on wraps.