Crock Pot -Chicken Tortilla Soup
jenne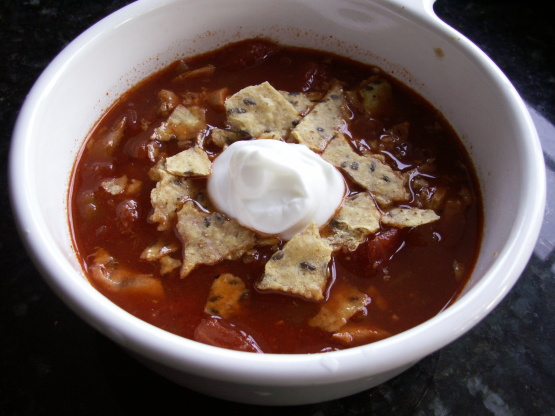 A quick, no-fuss version of chicken tortilla soup! All you do is put everything into the slow cooker, and turn it on. Then garnish with baked corn tortilla strips. What a dish.

I put my chicken breasts in partially frozen and shredded the chicken the last hour of cooking. Also, I had to use taco sauce instead enchilada -- not sure what the difference is, but it was good!
Place chicken, tomatoes, enchilada sauce, onion, green chilies, and garlic into a slow cooker.
Pour in water and chicken broth.
Season with cumin, chili powder, salt, pepper, and bay leaf.
Stir in corn and cilantro.
Cover, and cook on Low setting for 6 to 8 hours or on High setting for 3 to 4 hours.
Garnish with fresh tortilla strips or tortilla chips.