Crock-Pot Chicken, Rice, & Beans
Tracy S.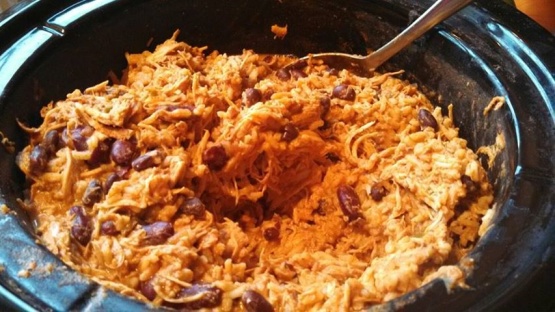 Another easy meal to make in the crock pot.

Easy and delicious! I could get into these crock-pot dishes. I had to add 2 cups more water for the rice to absorb and expand. Next time, I'll probably just cook the rice separately and add it at the end. Other than that this was fab!
Mix the salsa, water, & taco seasoning in a crock pot. Place the frozen breasts in the mixture then sprinkle with salt & pepper.
Cover with a lid & cook on low for 3 hours. Uncover, flip over the breasts then stir in the black beans. Recover & continue to cook for another 2 1/2 hours.
Shred the chicken breasts then place back into the pot. Add in the cream cheese & stir until melted.
Turn off the heat, pour in the uncooked rice, stir then cover. Let sit for 12 minutes then spoon onto plates & top with shredded cheese (if using).