Crock Pot Chicken Enchilada
cbw8915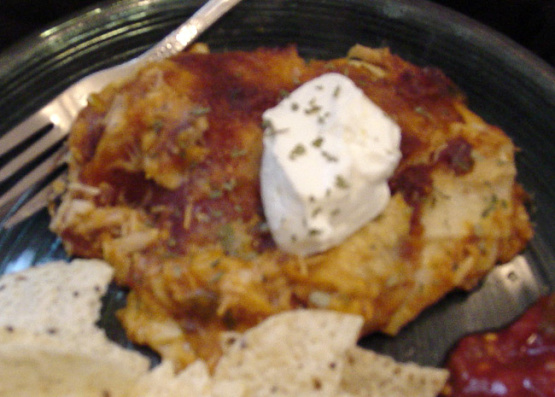 Great for reunions or potluck--always a big hit. I fix this a lot on Sunday mornings for a great lunch after church.

Why I do declare! This Mexican dish was put t'gether in two shakes of a sheep's tail! It was so cheesy and sat down so purty on our plates! My young'uns raved about it, why you'da done thought they wuz at Taco Bell! I added 'bout twic't tha chicken 'called for cause Granny done got herself confused yes'tiddy and killed us two of our yard hens 'stead of one. I don't think it hurt things none, as ev'ry body near'bout licked their plates clean!
1

cup cooked chicken, chopped

2

(20 ounce) cans enchilada sauce

1

(10 1/2 ounce) can cream of chicken soup

12

corn tortillas, cut into quarters

2

cups shredded cheese
Spray bottom of crock pot with Pam.
Pour 1/2 can of enchilada sauce on bottom.
Place a layer of tortillas on bottom.
In a small mixing bowl, mix chicken and soup.
Spread half chicken mix on top of tortillas.
Sprinkle with 1/2 cup cheese.
Repeat layers.
Top with remaining tortillas, enchilada sauce and cheese.
Cover and cook on low for 3 to 4 hours.