Crock Pot Chicken Corn Soup
Derf2440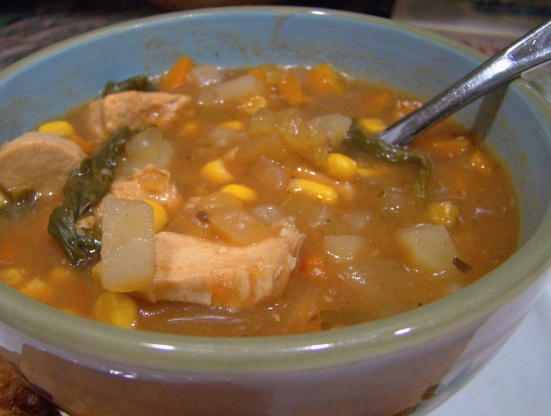 Canned cream-style corn gives this soup a rich taste.

Wonderful flavourful hearty soup!! Because I used 2 boneless, skinless chicken breasts I chose to remove all visible fat and cut them into bite sized pieces in the begining and did not puree the soup veggies. I had no zucchini but had some fresh spinach to use up, also discovered the can of cream style corn I thought I had was not there, so had to use a can of corn kernels. Turned out delicious and I will be making it again, it will be great to have in the freezer over the winter and made a very tasty supper tonight. Thanks for posting.
Rinse chicken and pat dry with paper towels; set aside.
In a 4 quart crock pot, combine onion, carrots, celery, potatoe, and 3 Tablespoons of the parsley.
Add chicken, then pour in tomato sauce and broth.
Cover and cook at low setting for 7 to 8 hours. Chicken and potatoes should be tender when pierced with a fork.
Lift out chicken and place on cutting board to cool to touch.
Next, skim and sicard fat from broth mixture. Stir in corn and turn crock pot to high heat. Cover and cook for additional 15 minutes.
Once chicken is cool, dicard bone and skin. Tear chicken into bite size pieces.
Return chicken to crock pot and sliced zucchini to broth; cover and cook until zucchini is tender (about 10 to 15 minutes).
Season soup with salt and pepper.
Before serving, sprinkle the remaining 1 Tablespoon of parsley on top of soup.