Crock Pot Chicken and Rice Soup
Nif_H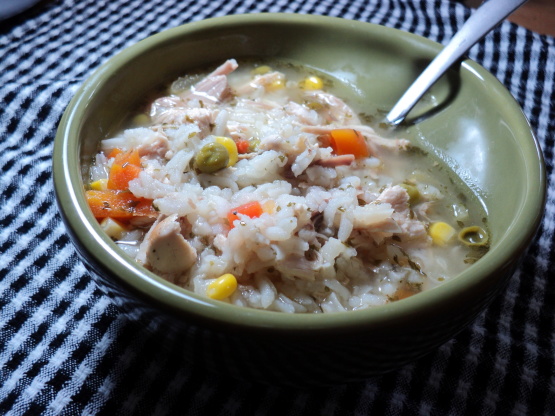 This is a very simple recipe from Best-Loved Slow Cooker Recipes.

Top Review by Nif_H
This soup is convenient, easy to throw together and the end result is great! I had everything packaged up for my husband to put in the crockpot at about 10 AM today so it would be ready to eat at suppertime. I used about 6 cups of chicken broth (we added more tonight) and almost 1/2 cup rice. The rice is too soft for our liking so I think I would add it for the last hour or 2 instead. Or you could precook it but it wouldn't have soaked up the flavour of the broth. What a nice supper to come home to! Made for PRMR tag game. Thanks Dreamer! :)
Combine all ingredients in your crock pot, cover and cook on Low for 6 to 8 hours or on High for 3 to 4 hours.
NOTE 1: If cooking on High, place celery in dish in microwave with 1 tbsp water, cover and microwave until celery is slightly soft before adding to crock pot.
NOTE 2: If soup is a little too thick, add more water and allow to cook for an additional 15 minutes.