Crock Pot Cheesy Ravioli Casserole
Pamela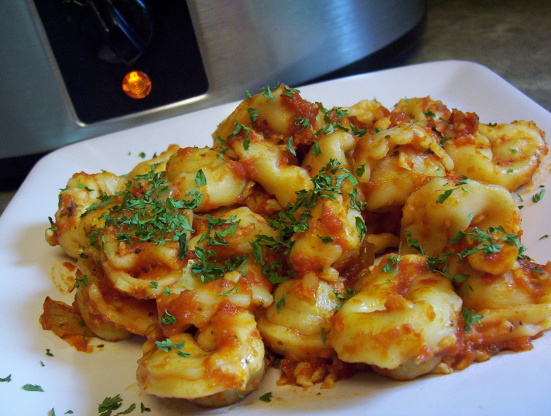 I work nights and crock pot recipes are lifesavers. Here is another one. Update: This recipe is also good frozen then thawed and reheated.

This was very easy to make and my children enjoyed it. I had never made frozen raviloli before :) I had bought some on sale and decided to try this recipe. I followed the recipe as written other then I used garlic powder and minced onions instead of the glove and onion. I skipped the step of cooking on the stove. I just added everything in the crockpot (except the oil which I didn't use). I also didn't add the parsley at the end. I only had to cook mine for about four hours.
Spray crock pot with Pam.
In a large skillet heat oil over medium heat, add onion and garlic and cook for 4 minutes stirring occasionally.
Stir in pasta sauce, tomato sauce and Italian seasoning.
Place 1 cup of sauce in crock pot.
Add 1 package of the ravioli, top with 1 cup of the cheese.
Top with remaining package of ravioli and 1 cup cheese.
Pour remaining sauce over the top.
Cover and cook on low for 5-6 hours.
Sprinkle with parsley before serving.
Makes 10 (1 1/2 cup) servings.
*UPDATE*.
For OAMC this recipe is good frozen. I put them into sealable freezer bags and reheated in bag and all in boiling water.