Crock Pot Cheesy Chicken & Ham (So Good!!!)
Parsley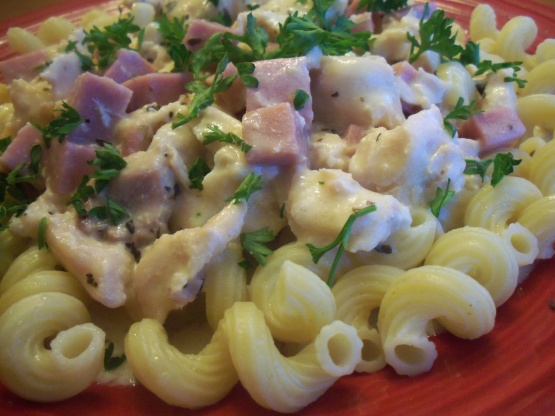 This creamy crock pot meal is comfort food at its best! It reminds me of chicken cordon bleu, without the fuss!

Pretty good. Used only 1/2 stick salted butter, and about a tablespoon of light olive oil. Will definitely make again, but with the following modifications: Cook chicken only 4 hours. Add 1/2 to 1 cup of milk to cream cheese mixture. Add salt to taste. Add peas at the end. Served over fettucine noodles. Will try rice or egg noodles next time. Overall, a yummy, easy recipe. Thanks for sharing!
Dice chicken, and place in crock pot.
Cut butter into pieces, and distribute evenly over chicken.
Sprinkle Italian seasoning and white pepper over top, and place lid on crock pot.
Cook on low for 7-8 hours.
At end of cooking time, cut up the cream cheese, and drop into crock pot, together with the diced ham and chicken soup.
Stir, then replace lid.
Cook on high until cheese is melted.
Serve hot over rice or pasta.