Kim D.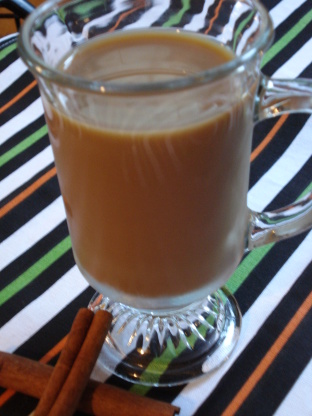 A chai tea recipe that is made in the crockpot. Found online at familycrockpotrecipes.com and storing it here for safe-keeping. I have not tried this yet,
Delicious!! I love using my crockpot so I was thrilled to find this easy chai tea recipe. This goes together quickly with ingredients I always have on hand, and makes a large batch (2 qts) of spiced, sweet tea. I cooked it on "high" for 2-1/2 hours, poured it in a pitcher to cool, and then added the milk. I stored this in the refrigerator and poured it into individual mugs, as needed. Popping the mugs in the microwave for a few minutes allowed us to have hot chai tea whenever we wanted it. We love chai tea and we really loved this version. I will be making this often. Thank you for giving me another great recipe for the crockpot. This is definitely a keeper!! *Made for New Kids on the Block tag*
Combine water, tea, sugar, cloves, cinnamon & ginger in Crock Pot.
Cover; cook on High 2 to 2-1/2 hours.
Strain mixture; discard solids. Stir in milk just before serving. Serve warm or chilled.