Crock Pot Caribbean Chicken in Rum
rletts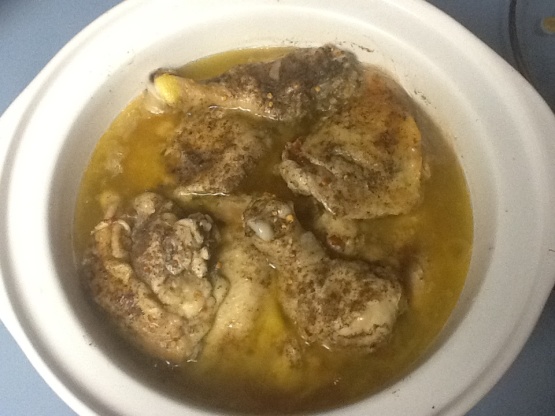 Delicious recipe originally from the Sunset Crockery Cookbook. I made a few changes when I tried the dish. I used about 3 pounds of skinless chicken thighs instead of an entire chicken. Not having nutmeg, and liking extra heat, I sprinkled the chicken with ground red pepper instead. Also I didn't have pimentos or almonds.

Top Review by rletts
I have made this for over 19 years and we love the rum and island flavor this has to offer. For additional sides that pair excellent with this dish,try this. Slice bananas length ways and then in half. Add to med heated Teflon pan. Squirt lime juice on bananas as they heat and then sprinkle with cinnamon sugar. Let them Carmelize and serve with this dish. Enjoy with a Chardonnay.
Put onions, garlic, ginger and pimentos in crock pot.
Arrange chicken pieces on top.
Sprinkle with nutmeg.
Mix lime juice, rum and red pepper flakes.
Pour mixture over chicken.
Cook on low for 6 1/2 to 7 hours.
If a thick sauce is desired: Remove chicken and keep warm.
Mix cornstarch with 2 T water and blend into a liquid.
Add cornstarch mixture to crock pot.
Cover and cook on high for about 10 minutes, stirring 2 or 3 times.
Season with salt to taste.
If desired, toast almonds in frying pan under medium heat.
Pour sauce over chicken.
Sprinkle with almonds.
Serve over rice.