Crock Pot Caraway Beef Roast
Parsley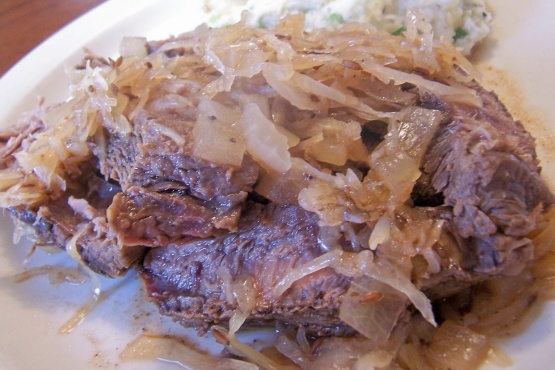 Easy crock pot recipe. I usually add the optional sauerkraut if I have it on hand, but it's still good without it.

this was verry good we all liked it alot. I do dr up my jared sauerkraut with white wine and caraway so i dont know if it tased quite the same as yours but it was great, thank you for sharing this. I will make this often.
Place beef roast in crock pot; top with the chopped onion.
In a small bowl, whisk together remaining ingredients; pour over the roast. **If using the sauerkraut, just pour it over top.**.
Cover and cook on low for about 8 hours or until done.
Remove the bay leaves. Allow to sit for 10-15 minutes before slicing.