Crock Pot Cajun Pot Roast
gailanng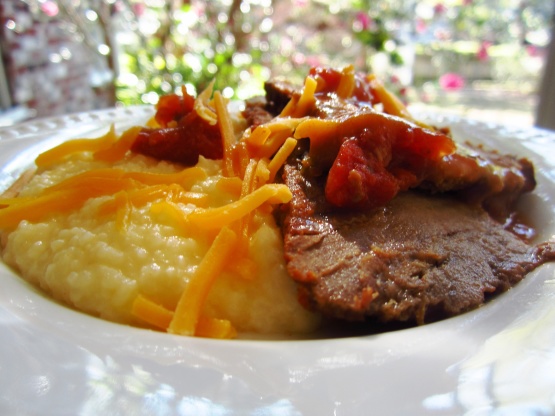 In the late 1960's I got this from a small Restaurant outside of Houma Louisiana. I remember I "oiled" the cook's vocal cords with a lot of cold Jax Beer to finesse the recipe out of him. About the only thing I've changed is re figuring it for the crock pot.

In just one day I had quite a few happenings. I noticed while in Walmart I had a rather large split in the side seam of my sweat pants, later I checked an old lottery ticket and won $25, much to my delight I witnessed my arch enemy humbled on facebook and, lastly, I made a delicious crockpot Cajun Pot Roast. What a day...what a day! I should wear those split sweats more often.
Add tomatoes, stock, thyme, basil, red pepper flakes and bay leaf to the crock pot set on high; mix well.
Mix cayenne, black pepper, and salt. Rub well into the roast.
Heat a cast iron pan, add oil and brown meat on all sides. Add to crock pot.
Sauté the vegetables in the drippings until tender. Add flour and cook for two minutes, stirring constantly.
Add vegetables to the crock pot.
Cover, reduce heat to low and cook 6-7 hours.
Cut into serving size portions.
Serve on a bed of rice.