Crock Pot Button Bone BBQ Pork
Bergy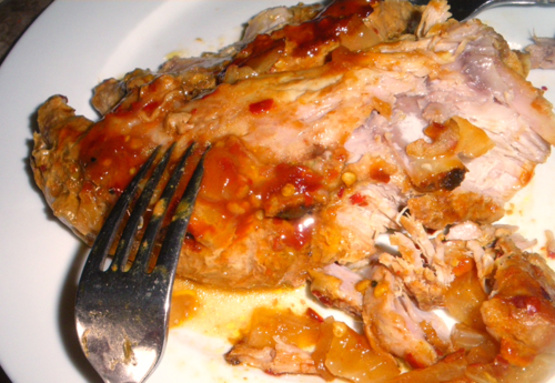 This is a quick, easy, economical & tasty dish. Takes minutes to put together and is wonderful served over pasta or rice. Make Pulled pork sandwiches with left overs. Use lots of sauce. Recipe may be doubled. I used a 680ml can of Primo'Thick & Zesty Garden Tomato & Mushroom" sauce and a 213ml can of Primo Garlic & Basil Pizza sauce. This meat cut is always very reasonable in price, the bones just fall out and the meat is very tender & moist. You may freeze leftovers.

Oh, Bergy, I'm so glad you posted this recipe! I made 2 lbs of button bones today, and we enjoyed this meal very much. I used Classico 'Italian Sausage, Peppers and Onions' sauce, and added a cup or so of sliced fresh mushrooms. I'd love to make this dish again, for ease of prep, economical, and great taste factors. I loved the addition of mushrooms; I'm going to, however, try another pasta sauce...one that isn't quite as assertive as the Italian sausage, more like the one you suggested, Bergy. My sauce competed with the pork flavour rather than supporting it. (I have to go out now and buy some more button bones for the freezer!)
Place half the chopped onion in the bottom of your crock pot with some sauce.
Then place a layer of button bones
Cover with sauce and continue layering the bones with the sauce ending up with a top layer of sauce.
Turn on low for 6 hours.