Crock Pot Boston Baked Beans

Great to serve with BBQ. Easy to prepare, you can fix it and forget it for a few hours.
Directions
Mix all ingredients in crock pot.
Cover and cook on low for 8-12 hours or high for 3-4 hours.
Most Helpful
This is the first time I've ever made my own baked beans and they were amazing! The house smelt amazing too! Couldn't wait to dig in. Gorgeous, rich flavour. Very more-ish, I just wanted to eat them all!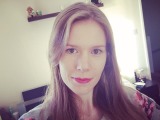 I actually used a homemade sauce which I had made for some pork chops earlier in the week which had chopped peaches in it. These beans were easy and delicious! Everyone at the cookout could not get over how great these are! A sure hit for any occasion!

I LOVED these baked beans!! I did make a couple changes...I used real bacon bits, cut out the green pepper (we don't like it), and cut down the brown sugar to 1/4 cup based on other reviews. I cooked these on low but after about 6 hours one side started to burn (I think it's a problem with my crockpot) so I turned it down to keep warm for another 2 hours until the rest of dinner was ready. I will never eat straight-out-of-the-can baked beans again!