Crock Pot Beef Vegetable Soup
lazyme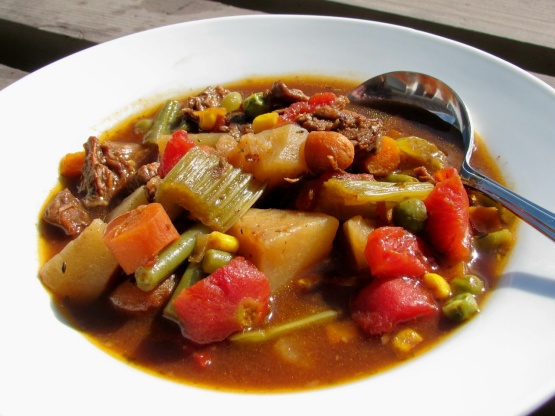 A great way to stretch a pound of beef, this soup is a whole supper in itself with a good hunk of peasant bread.

Great recipe and very economical too! I used a piece of skirt steak in mine, a cheap cut that was perfect for the long slow cooking. I cooked it for 6 hours and then put it in the fridge overnight. Next day I skimmed off the fat, cooked it another couple of hours and stirred in some cooked pasta and frozen peas. The addition of the pasta made it very filling. I used half a cup of red wine in mine also. A very satisfying meal!
1

lb stewing beef, trim, bite size

1

(14 ounce) can stewed tomatoes, sliced

3

potatoes, peeled, diced

2

carrots, peeled, pennied

1

garlic clove, crushed

1

bay leaf

1

stalk celery, chopped

1

small onion, diced

4

cups water
salt and pepper
1⁄2 teaspoon thyme

1

teaspoon parsley, chopped

2

cups frozen mixed vegetables
Place all except frozen vegetables in crock pot.
Turn on low and cover, cooking for 6 hours.
One half hour before serving, turn up to high, add frozen veggies, stir and cover.
NOTES: If you are in a hurry you can do this in 3 1/2 hours on high heat.
Remove the bay leaf before serving.
You can add 1/2 cup of red wine with the vegetables for a more robust flavor.