Crock Pot Beef Stroganoff
vrvrvr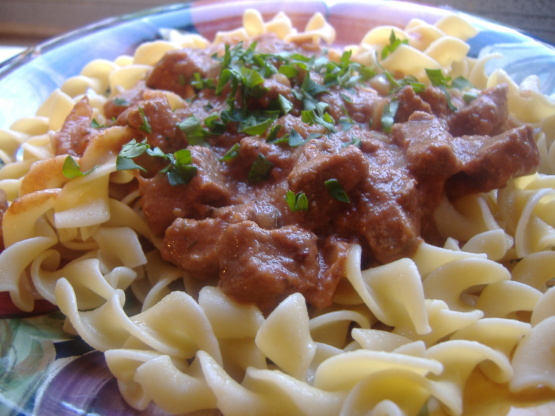 This recipe was given to me by a friend. My kids love it! I think it is best cooked longer on low heat as the meat is more tender. I also substitute low fat sour cream.

Top Review by TGirl
The first home cooked meal my BF ate since being discharged from the hospital after his motorcycle wreck..he said, on a scale of 1 to 5, he gives it 8 stars! I totally agree--this was delicious! I only had 8 oz of sour cream on hand, and the sauce was just perfect for our tastes..we served it over rice (just out of preference)--a warm, hearty meal that we thoroughly enjoyed!! Thank you for this keeper recipe! TERESA
Cut stew beef into 1" pieces and put in crock pot.
Dredge beef with flour.
add garlic and spices.
add crushed tomatoes.
cook on low for 6-7 hours or high for 4-5 hours.
Thirty minutes before eating add sour cream.
serve over warm noodles.