Crock Pot Beef Round Braised With Tomato & Herbs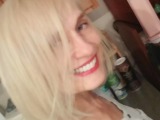 Based on a recipe from Sunset's Crockery Cookbook. It recommends, "Serve thick slices of this moist, tender roast and its herb-seasoned tomato sauce with pasta tubes or twists, such as penne or rotelle." I think this is good family fare.
Directions
Sprinkle pepper on all sides of beef.
Heat oil in a wide nonstick frying pan over medium-high heat; add beef and brown well on all sides.
Meanwhile, in a 3-quart or larger electric slow cooker, combine onion, carrot, garlic, and herb seasoning.
In a small bowl, mix tomato sauce, Worcestershire, and wine; set aside.
Place beef on top of onion mixture.
Pour tomato sauce mixture over beef. Cover and cook at low setting until beef is very tender when pierced (8 to 10 hours).
Lift beef to a warm platter and keep warm.
Skim and discard fat from sauce, if necessary.
To serve, slice beef across the grain. Spoon some of thw sauce over meat; garnish with parsley.
Serve remaining sauce separately.