Crock Pot Beef Bourguignon
Calee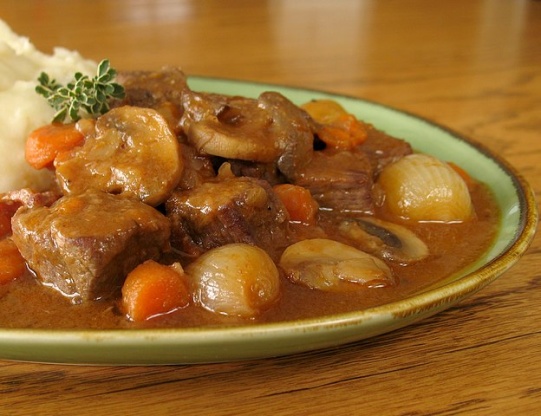 I've been making this for years and years. It's one of those never fail to please recipes. The recipe originally came from the little book of recipes that came with my first crock pot. I often buy and use beef that is already cubed to save a little time. I also by a jar of small onions and add that instead of the fresh.

Top Review by Calee
This is another recipe I would love to give more stars. Comfort food at its best. I made some small changes, first I only used 1.5 pounds of beef and keep everything else the same I wanted a little bit more gravy because I was serving this dish with garlic mashed potatoes. Also instead of just slicing the onion I cut them small diced. I used fresh thyme, just a small sprig. Overall the gravy had a ton of flavor and was very good over the mashed potatoes. This is a keeper thanks for posting,
Cook bacon in large skillet until crisp.
Remove from pan and drain.
Add beef cubes to the same pan and brown well.
Place browned beef cubes in crock pot.
Add onion slices and carrot slices to skillet.
Add tomato paste, thyme and minced garlic.
Season to taste with salt and pepper; stir in flour.
Add broth and mix well.
Add this mixture to the crock pot over the beef.
Add bay leaf and pearl onions.
Crumble cooked bacon and add to crock pot.
Cover and cook on LOW for 8-10 hours.
Saute mushrooms and add to crock pot with wine about 1 hour before serving.