Crock Pot Beef Barley Soup
ktenille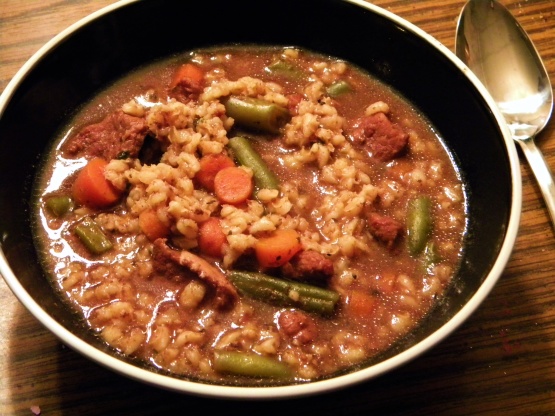 This is a really easy and good soup. Add more beef broth if looking for a very beefy taste and thicken up with cornstarch & beef broth. My family just loves this dish and ask for it frequently. The main thing to remember is to NOT STIR the soup until close to the end of cooking time.

This is excellent stuff! I have my own recipe for beef barley soup posted here, and I actually like this one much better than mine - less work too! A few changes I made - I didn't measure the veggies, just chopped up a bunch and dumped them in. I used 3 stalks of celery, 4 carrots, and about 3/4 of a very large onion leftover from last night. I had no green pepper in the house so I skipped that. I added a package of au jus mix because I always do to beef and barley soup, it just adds something to the taste I love. Because of that, I skipped the salt. Also, I used 4 c. beef broth and about 2 c. water, and skipped the beef boullion, both since I used more broth than called for and to keep the saltiness down because of the au jus. I opted not to thicken it - it was just right for us. This filled my 5 qt. crock to the brim - I'm so glad I didn't try to use my 4 qt.! I think I will actually replace my recipe with this one, so good!
Layer in crock pot.
Vegetables and meat.
Barley, beef broth, and spices.
Cover with water.
DO NOT STIR.
Cook on low 10 hours; high 6 hours, or combination of above.