Bev I Am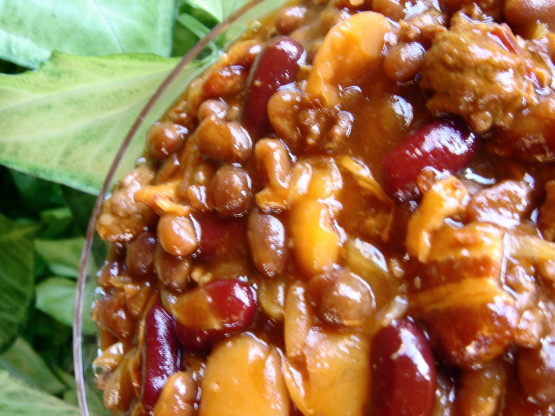 This is another one of those family recipes that we all love and is so easy to make. Great for a week night meal when the family is rushed.

I was looking for an easy bean dish so I decided to give this one a try. The bacon, hamburger, and the different varieties of beans were a perfect combination! Today I found myself sneaking into the fridge and taking out a spoonful every now and again. FABULOUS COLD! I only added 1 1/1 tsp of the liquid smoke and I felt that it still overpowered the beans just a bit. (It obviously hasn't stopped me from dipping into the leftovers!) My reasons could be that I have never really cooked with this flavoring. Next time I make this dish I think I'll add just 3/4 tsp or a whole one. YUM!
Cook ground round with onions until meat is browned, drain off grease.
Cut up bacon and fry until well done and drain.
Mix meat, bacon and remaining ingredients in crockpot.
Cook for 6-8 hours on low.