Crock-Pot BBQ'd Beef for Sandwiches or As a Topping
VickyJ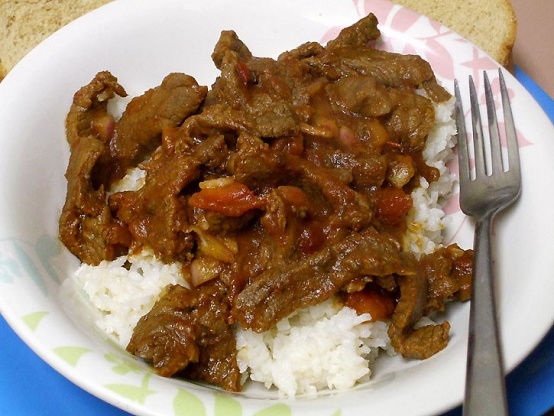 I made this tonight when I wasn't sure what else to make. I used flank steak. This is more appropriate for sandwiches and serve on big, crusty onion rolls. YUM! Instead, we had this on rice... no rolls. :( It came out mighty tasty. It's a semi-homemade recipe, using bottled BBQ sauce. You could also spoon the leftovers over a baked potato or pasta. The recipe can be expanded for more servings or potlucks.
1

lb flank steak, sliced on the diagonal (thin)
1⁄2 medium red onions or 1⁄4 cup diced shallot

1

small tomatoes, diced
3⁄4 cup prepared barbecue sauce (I used Hickory-Brown Sugar flavor)
1⁄4 cup pasta sauce (I used Traditional Prego)
salt and pepper
flour, see NOTE at the bottom of directions (optional)
Slice steak in thin pieces.
Place in crock-pot (I grease mine with a little olive oil--1 Tbsp).
Chop onion and tomato.
Add on top of beef.
Pour the two sauces over beef and vegies.
(You could add a little salt and pepper, at this point, but I wait until it's done to see if it needs it.).
Cook on HIGH,1-2 hours; LOW 4 hours. (I cooked mine on HIGH) for a little over an hour).
Serve on rolls, rice, baked potatoes, pasta -- YOUR choice. It's good stuff, even though it's not totally homeade.
NOTE: You might want to add 1/2 - 1 Tbsp flour (give it a quick stir) about 1/2 hour before it's done, if you like a thicker sauce. When I made this as a topping for rice, it came out kind of thin. I think I will add the flour next time when I have this for sandwiches.