PaulaG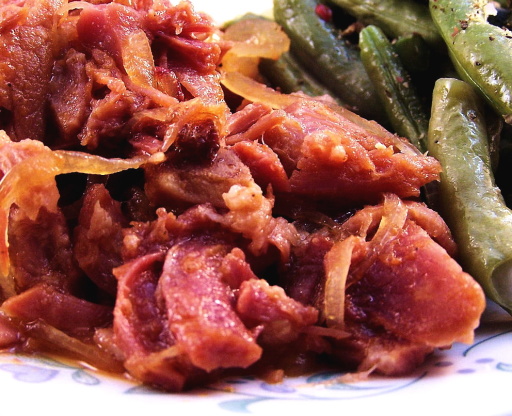 I searched recipezaar for BBQ sauce recipes and made this one out of three or four recipes. It is rather loose and based on what was in my cupboard at the time. Please experiment with it! It would be amazing on baked or grilled chicken too!

Great recipe. I followed it loosely in order to use up a bottle of maple BBQ sauce as well. I used a pork sirloin cut. In place of the chipotle sauce, I pureed 3 peppers in abodo. My husband really enjoyed it. Thanks!
Lay sliced onions and halved garlic cloves in the bottom of the crock pot.
Lay hunk o' pig on top of the onions.
Combine sauce ingredients (from ketchup to black pepper). Please add more or use less of whatever you want. This was a thrown together thing, but it worked pretty good :) If you are ever in Portland OR make sure you pick up a bottle of Secret Aardvark sauce, otherwise use whatever hot sauce you like (chipotle anything would be amazing in here!).
Pour the sauce over the pig and onions, turn your crock pot on and go to work. It will probably take 5-8 hours to cook this baby, depending on your crock.
When done pull the hunk o' pig out of the crock pot and into a large bowl or pot. Using two forks shred the meat and separate it from the gristle and bone.
Strain the contents of the crock pot into a sauce pan on the stove. Discard the onions. If you have the time and inclination reduce the sauce and degrease it anyway you can (I used ice cubes and paper towels and it was still pretty greasy -- refrigerating it and peeling the fat off would be the best, but isn't the point of a crock pot meal that you have dinner ready when you get home?). Use additional tomato paste or other ingredients to thicken and adjust the flavor of the sauce.
Mix a bit of the sauce into the pork to make it saucy to your liking. Serve with bread and more hot sauce. Wallow in porky heaven.
MMMMmmmm.