teresas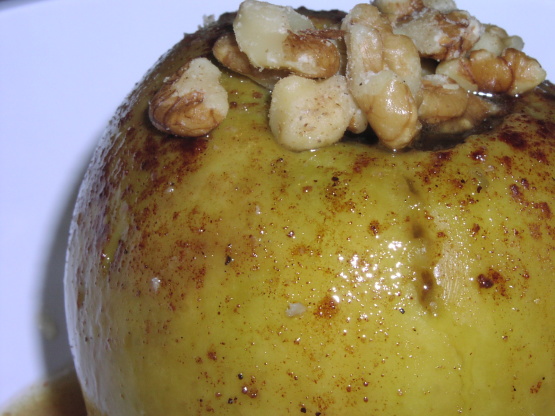 Old-fashioned comfort food that looks after itself until you're ready to serve it! Enjoy Baked Apples in summer without heating up the kitchen, or at any time of the year. Adapted from a recipe in Betty Crocker's "Slow Cooker Cookbook". If you are planning to make this recipe, please read Rita's experience with this recipe, and my notes below.

I made this today using large granny smith apples and cider. The apples were cooking 2 1/2 hours on low, and were not ready, I turned them up to high and they were done 1/2 hour later. I thickened the cider with a little arrow root mixed in water. The sauce was delicious I dribbled a little brandy in it, and served them with whipped cream, Yum :). I'll definately will be making these again. Thanks for the recipe.
Core apples, combine brown sugar and dried fruit (cranberries, raisins, cherries or mixed fruits) and fill the centres of the apples with the sugar/fruit mixture; place the apples in a 5- to 6-quart (5-6 litre) crock pot.
Combine the wine or apple juice with the melted butter and pour it over the apples; sprinkle the apples with cinnamon and nutmeg; cover the crock pot and cook on low for 2 to 3 hours or until the apples are tender.
To serve, spoon the apples into individual dessert dishes, spoon the wine/apple juices over the apples, sprinkle with chopped nuts and cream or ice cream.
How ironic my introductory words: "looks after itself". True, but it seems crock pots sometimes have minds of their own and produce something other than what we had planned for them to make! From reading many reviews on Zaar, I've come to the conclusion that the results from crock pot recipes are sometimes more unpredictable than recipes made in other ways. I've not had anything like Rita's experience on this occasion, but rather the opposite, which is of course easier to deal with: I've several times had to continue cooking on low or to raise the setting to high with other crock pot recipes. And I've at times cooked crock pot recipes for hours longer than was specified, which has left me wondering how similar or different the low setting is on different brands of crock pot. Rita's experience suggests that the cooking time needs to be seriously adjusted so until I have a chance to check out this recipe and report back, which I will do VERY soon, I'm changing the cooking time from the four to six hours suggested in the original recipe to TWO to three hours, or until the apples are tender. I thank Rita for so graciously accepting the unforeseen fate of her beautiful apples. Such an enticing before picture! And when she looked into her crock pot - her second picture - after three hours cooking: what a shock! I'm just so glad that she hadn't gone off for six hours and left her apples and the crock pot to do their own thing - and I'm so pleased that at least the cooked apple sauce was delicious.