Crock Pot at the Cabin Beef Stew
Boomette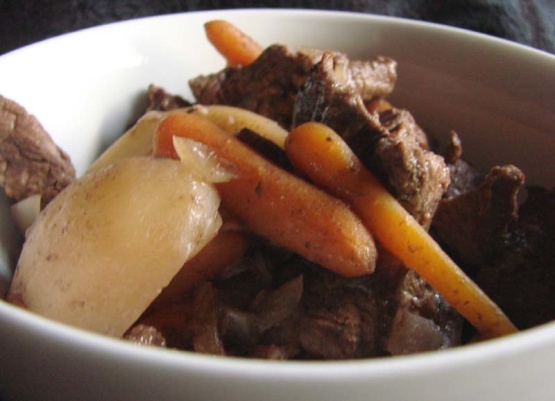 My husband and I have glorious dreams of someday owning our own cabin. This is the recipe I'll make to invoke the flavors and aroma of a warm, inviting and cozy place to come back to after a cold wintery day outside. For now, we'll just keep dreaming. But if you find yourself at the perfect cabin getaway, we recommend a bowl of this while sitting in front of a roaring fire, eating some chewy French bread and enjoying each other's company over a great glass of red.

Used this recipe for the first beef stew of the fall/winter. It was a big hit. Followed the recipe all the way except I added a couple of bay leaves and cut the barley in half. To cut back on the sodium I used low sodium soy sauce and low sodium low fat beef broth. I also used a little corn starch in the last hour of cooking with the barley as we like a little thicker sauce. This is a keeper and will be making it again soon.
In a crock pot, combine soy sauce, Worcestershire, flour and pepper. Mix well.
Add stew meat and toss to coat. Allow to marinate for 30 minutes (do not turn your crock pot on yet).
Next, add the carrots, potatoes, onion, garlic, thyme, marjoram, wine and beef broth. Stir to combine.
Start the crock pot on high heat and cook for 15 minutes.
Reduce heat to low and cook for 6 hours. Add water and barley and cook for an additional 1 - 2 hours or until barley is tender.