Crock Pot Asian Pork Roast

I haven't made this yet but it sure sounds good. This recipe came in the mail with my electric bill.
Directions
Spray crock pot with cooking spray and add the pork roast.
In a small bowl, combine the hoisin sauce, garlic, ginger, chili paste, rice wine, soy sauce and sesame oil.
Mix in the cornstarch.
Pour the sauce over the roast.
Place lid on crock pot and cook on low 8 hours or high for 3 1/2 hours, or until internal temperature reaches 160 degrees.
When roast is cooked all the way through, remove from slow cooker to a platter, cover with foil and let stand 10 minutes.
Pour the cooking liquid into a bowl and let stand 10 minutes, then skim any fat from the surface.
Slice roast, sprinkle the scallions and cilantro on top.
Serve the sauce on the side.
Enjoy!
Most Helpful
My tenderloin was probably closer to 4 lbs, so I let it cook the full 8 hrs. I think it doesn't need that long, as it came out more dry then. The sauce was really good and helped the dryness. Flavor is good.

Very good! I happened to have all of the ingredients, right down to the fresh ginger! We all loved it, I served it with plain white rice and had some frozen leftover pot stickers from the store, also had chinese cucumber salad so it was a great chinese dinner. It will go into my Favorites cookbook, thanks so much for posting. Vi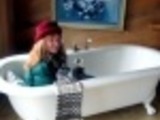 Delicious. I made it exactly as written. I served it with a can of La Choy chow mein vegetables, drained and stir-fried with left-over brown rice and cooked egg. We couldn't stop eating it!